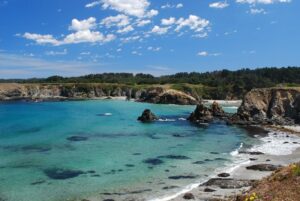 There's some absolutely beautiful oceanfront property in Mendocino County available right now for a variety of budgets, and all you have to know is where to look. Thankfully, the internet is a doorway that leads anywhere in the world, connecting savvy homeowners with hundreds or even thousands of potential buyers from anywhere, instantaneously. Whether you're looking for your next home with an ocean view or you'd like to sell your own ocean view property, Scott Roat is the real estate agent who can make those connections happen. Current listings are available to view here on the site.
A Realtor With Experience that Speaks for Itself
With a history working with a long list of Fortune 500, small, and mid-size companies in digital media marketing, Scott has his ear to the wire, so to speak. He understands leveraging the internet to connect homeowners to homebuyers, and to market directly to the people who are looking for oceanfront homes. The Northern California coast is undeniably beautiful and highly sought after. Scott has been a real estate broker for nearly 20 years, and a firefighter for 12 of those years, and is intimately familiar with the area in a way most agents aren't.
He works first and foremost for his clients, keeping their priorities at the forefront of his work and coming up with unique solutions that will get them exactly what they're looking for. After fifteen years on the Mendocino Coast, he knows it like the back of his hand and has sold and brokered plenty of oceanfront property in Mendocino. With so many beautiful properties nearby, on the beach and a short distance away, it's easy to find the perfect home for everyone! Many people are turning to the gorgeous Northern California Coast to beat the heat in Sacramento or Arizona. If you want to enjoy a mild climate all year long, contact Scott!
Find Your Happy Today
As part of the community since 1999, he's made plenty of friends and connections, which help in all his realty endeavors. This is a gorgeous place to live, a place Scott is proud to call home, and owning one's very own ocean view property here is well within grasp.
Mendocino County is known as a place to come to "find your happy," and Scott can attest to the truth of that statement. Artists, gardeners, hobbyists, and nature-lovers adore the area, and there's plenty of wine and agriculture to be found everywhere you look. It's easy to see why people find inspiration here – the views are stunning, the weather is temperate and beautiful, and the people are friendly. Are you ready to find your happy? Reach out today to ask about buying or selling oceanfront property in Mendocino. You'll be so glad you did.