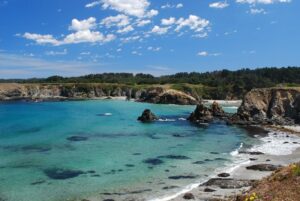 Where do you go to find reliable listings for Northern California oceanfront homes for sale? You go to Scott Roat, an experienced real estate agent on the North Coast of California. He has decades of experience working with clients in the tech industry and has been a member of the Mendocino community since 1999. He moved to the area permanently in 2003 and since that time, he's been perfecting the art of locating Northern California oceanfront property for sale for his clients in Silicon Valley, San Francisco, Oakland, the Sacramento Valley, and even Arizona! Some people come to the Mendocino Coast to escape the business of city life. Some come to enjoy the yearlong mild climate that never gets too hot or cold.
Your New Oceanfront Home
There's no denying that the California coast features some of the most beautiful property in the world. Northern California, in particular, is serene, temperate, and removed from the heavy population and bustle of major cities. It's long been considered an ideal spot for tech industry executives and leaders to retire or find a second home, often with acreage and a view. Unfortunately, finding Northern California coastal property for sale can be a challenge – it's in high demand and can be difficult to come by if you don't have a partner on your side who knows what you're looking for and where to look.
Thankfully, Scott's here to make everything a whole lot easier. When you're dealing with the constant demands of a high-powered career, it can be difficult or impossible to get away every weekend to look at Northern California oceanfront homes for sale, regardless of how much you want it to be your reality. Scott gets that and he works hard to narrow the search to only the properties you actually want to see. He helps clients find homes in every pricepoint. He has a simple philosophy: the client comes first, each and every time. You tell Scott what you need, he makes it happen.
Don't waste another minute wishing you knew where to start looking for Northern California oceanfront property for sale. All you have to do is contact your new partner. You'll be relaxing with a stunning view of the California coast in no time flat.